Lakeside
Here's a belated race report for Lakeside Olympic Triathlon, the final race in the MultiSport Canada Triathlon Series. Lakeside promised to be a "showdown for cash" with a stacked field fighting for Elite/Pro Series points. Alex VanderLinden posted an entertaining pre-race bulletin with comments on each of the contenders.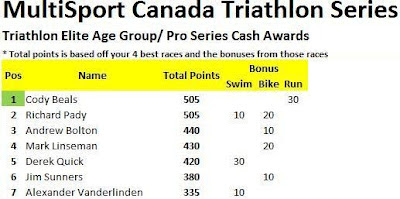 MSC Elite/Pro Series leaderboard prior to the final race. Alex had only done 3 races.
Richard Pady or I would win the series. With second place locked up, I could afford to take some risks. The fastest swimmer, biker and runner are awarded a 10 point bonus, which encourages tactical racing. I can't touch Pady on the bike, but I was confident that I could snag the run bonus. That left the swim.
I marked him at the start but promptly lost him in the sea of flailing limbs. I raged as my new goggles filled with water. I quickly emptied them and spotted Pady up ahead. I swam hard, harder than ever before, possibly too hard, to catch him. I shadowed him as we picked our way through the slower waves of swimmers on the two lap course. He surged ahead as we approached the end of the 1500 m swim. We hit shallow water and both staggered towards the timing mat, slipping on the slimy lake bottom. He had the lead and I watched, like in a slow motion nightmare, as he crossed the mat just three seconds ahead of me to take the bonus.
That was demoralizing, but I had to forget it and refocus. Out on the bike, I struggled with the hills and the wind. First I was passed by Mark Linseman, then by a hard-charging Andrew Bolton. I have never been happier to see the dismount line.
I was about 3:30 down on Pady. Catching him was within the realm of possibility, but it would have to be a special day. In the end, I made up nearly three minutes. Not quite enough for the win, but enough for second in the race (results) and the series (results), and my first paycheque as a pseudo-pro triathlete. Thank you to MultiSport Canada and the elite guys for the awesome season.
Lessons
I hit the ground running after Lakeside, logging gratuitous mileage and lining up races despite my earnest essay on the importance of downtime. Fall has a bewitching quality—the crisp air, the flaming leaves, the waning light, all portending winter. I'm powerless under its spell. Just as squirrels frantically hoard nuts for winter, I stockpile miles during this ephemeral season of plenty.
But my beleaguered immune system had others plans. Now I'm taking antibiotics and a daily dose of common sense. I even took a day completely off… the second since May 2011. Lesson learned. I still hope to salvage a running season with a few low-key fall races.
Looking Forward
I couldn't have hoped for a better season: podium finishes, improvement in all three disciplines, new contacts and unprecedented motivation. So what's next? Deeper down the rabbit hole that is quasi/sub/pseudo-pro/elite triathlon. My studies are finished (for now), my work is flexible and my family and friends are not only tolerant, but very supportive. So I'm fortunate enough to have the time, means and drive to pursue this crazy sport to the next level.
Starting this fall, I'll be working with coach, ex-pro triathlete and überbiker Richard Pady of Healthy Results Training. He's going to help me graduate from training wheels and water wings, court sponsors, and recognize when I'm acting squirrely (see above).
Listen to me casually dropping words like "elite", "podium" and "sponsors". Sounds like a virulent case of megalomania. He's won a few local races and now he thinks he's a big deal. Rest assured, I plan to nip any delusions of grandeur in the bud. My 2013 schedule will include some new challenges that are sure to prove humbling.