What does it take to win a professional IRONMAN 70.3 race and set the fastest bike split? How do these races play out in terms of tactics? Throughout my pro triathlon career, I've shared power file analyses after many of my best performances. To help answer these questions, I've collected brief analyses from ten notable races, including five wins and five fastest bike splits, along with a description of the course and conditions. Here they are in reverse chronological order and you can also find most of these power files on Strava.
I consider a power meter to be an indispensable tool for both training and racing. I find that most of its utility comes from analyzing the data after the fact, though it can also be a helpful pacing aid during the race.
Looking at these race summaries, it's striking how variable the demands of pro racing can be. Only some of these differences are accounted for by course characteristics and weather conditions. Some power files show a steady, evenly paced effort, more like an individual time trial. Others feature many spikes in power, surges and attacks arising from strategic moves or riding in a (legally spaced) pack.
Anticipating questions about my bike setup, I've itemized it below. I've done extensive aerodynamic testing and optimization including two trips to the wind tunnel and several sessions with the STAC Virtual Wind Tunnel. Based on this testing, I estimate that my real-world, average CdA during races is roughly 0.22 m² at zero degrees yaw. I'm 182 cm (6 ft) tall and race at around 71-72 kg (155-159 lbs).
IRONMAN 70.3 Eagleman 2018
IRONMAN 70.3 Victoria 2018
IRONMAN 70.3 Taiwan 2018
IRONMAN 70.3 Santa Cruz 2017
IRONMAN 70.3 Mont Tremblant 2017
IRONMAN 70.3 Eagleman 2017
IRONMAN 70.3 Monterrey – Pan Am Champs 2017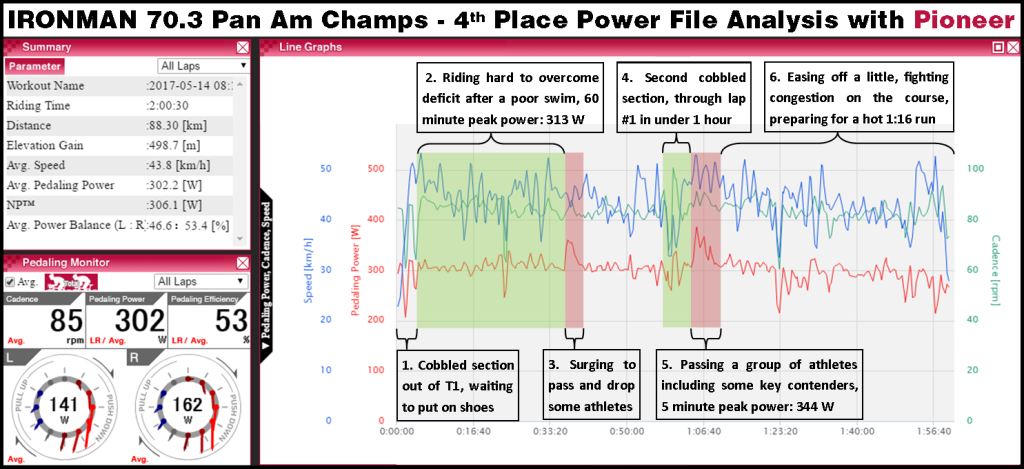 ITU Long Distance World Championships 2016
IRONMAN 70.3 Ecuador 2016
IRONMAN 70.3 Eagleman 2016