This was the picture that greeted me when I woke up on Saturday morning:
Later that morning I was racing the MSC Wasaga Beach Olympic Triathlon. So you can appreciate my disgust when I checked the radar. With grim resignation, I drove to Wasaga Beach, trying to tune out the driving rain and buffeting winds.Running in the rain is one of life's great pleasures. The same cannot be said of cycling in the rain. At best, it is uncomfortable and annoying, at worst, bone-chilling and nerve-fraying. Coupled with cooler temperatures, my hands become useless claws, a consequence of having poor circulation and the ape index of a spider monkey. Imagine shifting and braking with less dexterity than an arthritic toddler. And nothing is worse than the gut-dropping sensation of tires squirreling around on a slick corner.
When I arrived, I heard that the swim was cancelled. No surprise. We would be racing a shortened duathlon: 5k run, 28k bike, 5k run. After a postponed start, a premature warm-up and a frantic last minute wheel change, retreating to the warmth and dryness of the car seemed pretty appealing. I think that's where I'm looking in this picture:
But then the race started and I found my legs carrying me along the beach with everyone else. I'm always struck by the same feeling in the opening seconds of a race: Oh no, not this again. Didn't you learn your lesson last time? Thankfully, this feeling is quickly supplanted by more focused thoughts, and later forgotten in the post-race afterglow.
Throughout the first run and onto the bike, I traded leads with 
Alex VanderLinden
, a fellow run specialist. Uber-biker
Richard Pady
 blew past us around the midpoint of the ride and opened an insurmountable lead.
Coming out of transition, Alex set a suicide pace. I hung with him for a couple kilometers, then I attempted a surge that lasted all of ten strides. After that, Alex pulled away and I trotted in for third place (
results
).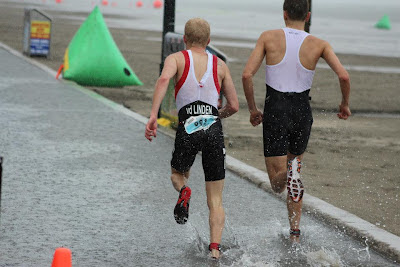 It wasn't the note I had hoped to end my season on, but it was an experience nonetheless. Apparently the conditions were the worst in the 11 year history of the race series. Tents and fences were blowing away when I left. That evening, on a whim, I registered for Lakeside Olympic, the last race in the series.
Downtime
be damned—the season isn't over yet!